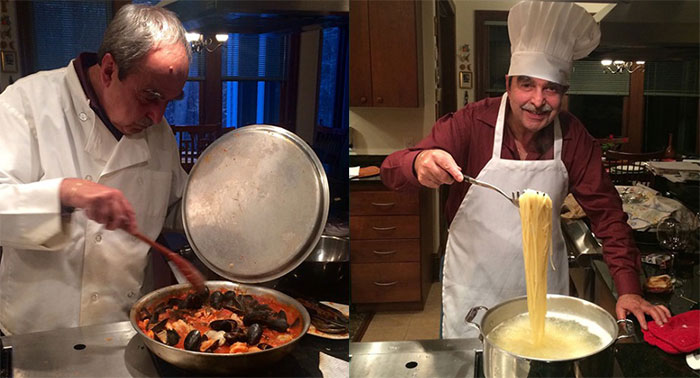 Dear Friends of the May Festival,
As you know, one of the passions of my life is music, especially choral music. I'm in awe of the power that music has to bring people together, which is no more apparent than in the commitment made by our own May Festival Chorus. You and I have shared many years together listening to the Chorus sing in Music Hall.
I'm guessing that you don't know about two other passions in my life: food and cooking, both of which must be in my Italian DNA. I suspect we share these passions, so I've chosen some of my favorite recipes and will send them to you in the weeks ahead. Though we can't join together in music, I hope these recipes, direct from my kitchen to yours, will be a source of comfort in this uncertain time.
Robert Porco
Director of Choruses
Recipes:
View Marinara Sauce recipe
View Chicken Parmesan and Garlic Bread recipe
View Clam Pasta recipe
View Chicken Cacciatore recipe
View Chicken Marsala recipe
View Steak with Peppers recipe
View Tuna Pasta recipe
View Mezzi Rigatoni Puttanesca recipe
View Chicken Hunter's Style recipe
View Sogliola alla Mugnaia recipe
View Stout-Braised Beef Short Ribs recipe
View Bucatini All'Amatriciana recipe
View Braised Lamb Shanks with Taglietelle recipe
View Farfalle con Salmone Affumicato (o Fresco) e Panna recipe
View Farfalle con Salmon, Fresco (o Affumicato), Funghi, Piselli e Panna recipe
View Pollo con le Olive Verdi recipe
View Branzino alla Griglia recipe
View Pitticelle di Zucchine recipe
View Spaghetti Aglio e Olio recipe