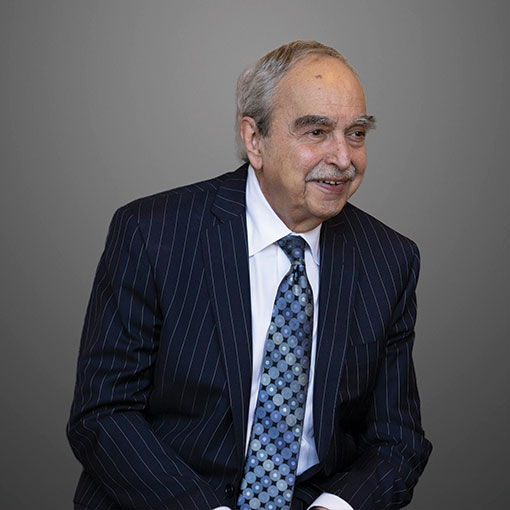 Since 1989, Robert Porco has led the May Festival Chorus in inspired collaboration and music-making which "shook the rafters" at the Chorus' most recent Carnegie Hall appearance in 2014. "Carnegie has seldom felt so alive," according to The New Yorker.
Robert Porco has been recognized as one of the leading choral musicians in the United States and for more than 40 years has been an active preparer and conductor of choral and orchestral works, including most of the major choral repertoire, as well as of opera. In 2011 Mr. Porco received Chorus America's "Michael Korn Founders Award for Development of the Professional Choral Art."
Mr. Porco's conducting career has spanned geographic venues across western Europe and the U.S., including performances in the Edinburgh Festival; Taipei, Taiwan; Lucerne, Switzerland; and Reykjavik, Iceland; and in the May Festival, Tanglewood Music Festival, Berkshire Music Festival, Blossom Festival and Grant Park Festival. He has been a regular guest conductor at the May Festival since 1991, with the Cincinnati Symphony Orchestra since 1996 and with The Cleveland Orchestra since 2000.
In 1989, Mr. Porco became Director of Choruses of the May Festival, and in 2010 he led the May Festival Chorus in the highly regarded premiere of Out of the Cradle Endlessly Rocking, a piece commissioned by the Chorus in honor of Mr. Porco's 20th season as director. Other notable events during Mr. Porco's tenure are three highly acclaimed appearances by the Chorus in Carnegie Hall: a 1991 performance of Mendelssohn's Elijah with Jesús López-Cobos and the Cincinnati Symphony Orchestra; a 1995 performance of Mahler's Symphony No. 8 with Robert Shaw, The Cleveland Orchestra, the May Festival Chorus and other choruses; and an October 2001 performance of Britten's War Requiem with James Conlon and the Cincinnati Symphony Orchestra. In addition, the May Festival Chorus's 2008 performance of the Pulitzer Prize-winning On the Transmigration of Souls, under the baton of the composer John Adams, led Mr. Adams to write, "The pure American quality of their enunciation and their perfectly balanced sonorities lifted the matter-of-fact plainness of the words to a transcendental level, and for once the piece did not seem as compromised and uneven as I had previously thought."
In 1998, Mr. Porco became Director of Choruses for The Cleveland Orchestra, preparing the Cleveland Orchestra Chorus for appearances in Severance Hall and the Blossom Festival and with the Orchestra at the Edinburgh Festival in 1999, at Carnegie Hall in 2002 and at the Lucerne Festival and London Proms in 2005. Mr. Porco's work during the 2013–14 season included preparing the Cleveland Orchestra Chorus for its debut with the Orchestra in Frankfurt, Paris and Luxembourg.
Mr. Porco has gained national recognition for his preparation of choruses for prominent conductors such as John Adams, Pierre Boulez, James Conlon, Andrew Davis, Christoph von Dohnányi, Paavo Järvi, Erich Kunzel, Raymond Leppard, James Levine, Jahja Ling, Jesús López-Cobos, Zubin Mehta, John Nelson, André Previn, Kurt Sanderling, Leonard Slatkin, Robert Shaw, Franz Welser-Möst, John Williams and David Zinman.
Mr. Porco taught doctoral-level choral conducting at the Indiana University Jacobs School of Music from 1979 to 1998, and as a guest instructor in 2011 and 2012. A highlight of his tenure at IU included leading a wholly student choral and orchestral ensemble of 250 in a highly acclaimed performance of Leonard Bernstein's Mass as part of the Tanglewood Music Festival's celebration of the composer's 70th birthday. As teacher and mentor, Mr. Porco has guided and influenced the development of hundreds of musicians, most of whom are now active as professional conductors, singers or teachers in schools of music, performance ensembles or solo careers. Mr. Porco remains a sought-after guest instructor and coach for conservatory students, young professional conductors and singers. His guest teaching venues have included Harvard University, the University of Miami Frost School of Music and Westminster Choir College (Princeton, NJ). From 1988 to 1998, Mr. Porco was Artistic Director and Conductor of the Indianapolis Symphonic Choir.